Some facts about the Enbridge Pipeline proposed for Minnesota
​
What is the Line 3 Pipeline?
At a cost of $7.5 billion, Line 3 is the
largest project in Enbridge's history
, and would be one of the largest crude oil pipelines in the continent, carrying up to 760,000 barrels toxic,
Alberta tar sand oil PER DAY
. Enbridge calls this project a "replacement" because they already have a Line 3 pipeline in their mainline corridor, which transects Northern Minnesota with 6 pipelines in it. But don't be fooled – this is a new pipeline. The new pipe would be larger (36" instead of 34"), carry nearly twice the volume of oil, and establish an entirely new corridor through Northern Minnesota. That is NOT a replacement.
This route is the same one Enbridge had earlier proposed for the "Sandpiper", a 30" pipeline that would carry 375,000 barrels of crude oil per day from the Bakken oil fields of North Dakota across Minnesota, through Hubbard County to Superior Wisconsin. The Sandpiper pipeline proposal was withdrawn by Enbridge in August of 2016.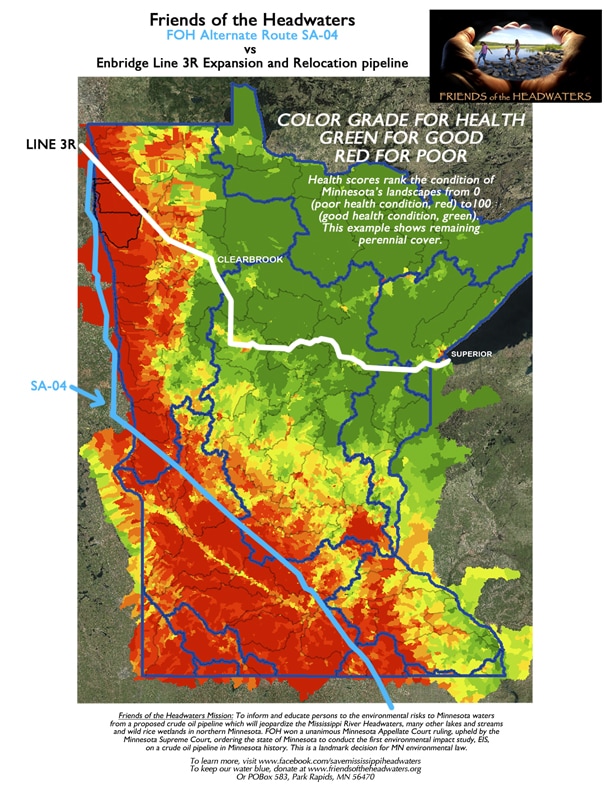 This route jeopardizes Minnesota's natural resources.
The map on the right and the ones below clearly shows how Enbridge's proposed route (white line) traverses our best quality lakes, rivers, wetlands and forest ecosystems. Friends of the Headwaters (FOH) is NOT anti-pipelines. FOH has long advocated for alternative route SA-04 (light blue line) which avoids our cleanest water resources and crosses land less permeable and better suited for pipelines.
The risks posed by Enbridge's proposed route are many:
- ​This pipeline route crosses the clearest lakes area in MN based on the Census of Water Clarity (U of MN Water Resources Center).
- This pipeline route crosses an area with the highest susceptibility for groundwater contamination impacting drinking water aquifers (MPCA map).
- The pipeline route crosses the wild rice lakes area. According to the DNR, MN supplies 50% of the worlds hand-picked rice annually.
- The pipeline route crosses wetlands critical to waterfowl and other wildlife (DNR).
- The proposed route would cross 8 state forests (including the Mississippi Headwaters SF), 3 wildlife management areas, 13 trout streams (including the Straight River), as well as the North Country Trail.
- Line 3 would cross the Mississippi River twice in Minnesota. This river is a valuable source of drinking water for many cities on its 2,552-mile journey to the Gulf of Mexico, including Minneapolis and St Paul. 3.8 million gallons of water flow from Lake Itasca into the headwaters every day.
A few more facts:
- The corridor will be covered with snow and ice for the long winter season. The Poplar pipeline spill (31,000 gallons) in the Yellowstone River in January of 2015 caused drinking water problems in Glendive, Montana. Clean up had to be postponed until spring. Imagine the effects of a similar spill in our Mississippi.
- PER DAY,
this pipeline will carry 760,000 barrels of Alberta tar sand oil, also called "dilbit", the industry name for diluted bitumen - also known as "Cold Lake Blend". Don't be fooled. It's still tar sands oil. That's almost 32,000,000 gallons/day through our headwaters.
- Enbridge's pipeline spill of 850,000 gallons of tar sands oil in Michigan in 2010 polluted nearly 35 miles of the Kalamazoo River and has become one of the costliest spills ($1.2 Billion) in US history.
- The National Academy of Sciences Report on Diluted Bitumen (Tar Sands Oil) final finding is "diluted bitumen is virtually impossible to clean out of a water-based environment".
WHY? BECAUSE IT SINKS!
- In a successful lawsuit. FOH forced the State to execute the first Environmental Impact Study (EIS) on a major oil pipeline in Minnesota history.
---
The following is a timeline for those seeking clarity about significant legal or procedural turning points on Sandpiper/Line 3 :
Enbridge applied for the Sandpiper in the fall of 2013. In January 2014, the all-volunteer group FOH organized to intervene in the pipeline approval process. By the summer of 2014 we realized that our educational sessions and meetings with landowners could be futile unless pipeline opposition had more access to the approval process, more opportunities for public input. A place at the table.
*On June 27, 2014, FOH filed a motion for oral arguments on alternate routes for Sandpiper to PUC. The PUC granted our motion in July, an atypical response for the PUC.
*In August of 2014 FOH wangled an opportunity to present our maps to the PUC during these atypical oral arguments— resulting in an additional comment period on the Sandpiper, supportive commentary from the MPCA and DNR, and in September, the PUC's bifurcation decision.
*In December 2014, FOH went to the Court of Appeals for an EIS. In September of 2015 the MN Court of Appeals ruled unanimously in our favor. (Upheld by MN Supreme Court in December of 2015.)
*In August of 2016, after spending the spring of 2016 in the scoping process required by the EIS, Enbridge and Marathon placed the Sandpiper on indefinite hiatus--citing "unprecedented" procedural delays.
*In September of 2017 independent experts hired by the DOC declared that a new pipeline was not needed. Recommending that the old Line 3 be mothballed, they concluded that no new pipeline capacity is needed to ensure "future adequacy, reliability and efficiency of energy supply."
*In March of 2018 the PUC declared the EIS "adequate."
To review all significant dates/decisions regarding these pipeline's procedural histories, click here.
So here we all are, in the spring of 2018, waiting on the ALJ's recommendation and weighing the efficacy of potential responses to the PUC's adequacy decision on the EIS. Still trying to keep oil in the ground and out of Minnesota's clean water.
If you still think pipelines are safe,
click the button below
---
Up here, a barrel of water is worth more than a barrel of oil...

Read more

​about the mission of Friends of the Headwaters

---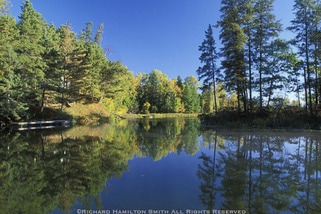 ​Add your voice to those
working to protect Minnesota's
cleanest water resources
ACT NOW
---
---