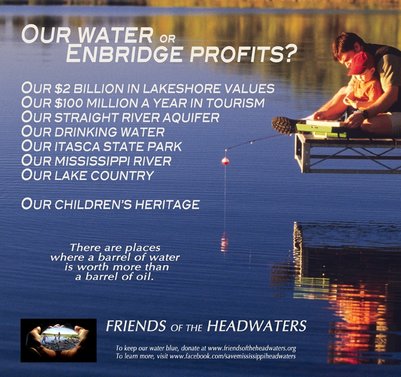 Commenting on the Certificate of Need and Route
Friends of the Headwaters has always believed that the independent investigation required by an honest EIS process would demonstrate that a Certificate of Need was NOT warranted for this Enbridge project -- that's why we went to the Court of Appeals in 2014, winning the appellate court's unanimous ruling in our favor and ordering a comprehensive EIS for oil pipelines in MN in 2015. The 2017 Environmental Impact Statement on Line 3 is the first and only EIS ever done on an oil pipeline in Minnesota.
The recent statement from the MN Department of Commerce ratified our contentions regarding Enbridge proposals for an expanded and relocated Line 3. In Friends of the Headwaters direct testimony filed
on 9/11
, economist Chris Joseph agreed, writing that "the evidence provided by Enbridge itself as well as industry authorities indicates that the project is not needed. Further, Enbridge has not provided nor demonstrated that the costs of the project are outweighed by the actual, incremental benefits of the project."
Friends of the Headwaters is encouraged by the DOC's validation of our position, but we realize that this process has a LONG way to go. We thank all concerned citizens who attended public meetings this fall and submitted commentary on the adequacy of the Final EIS and commented on Line 3 Certificate of Need/Route.
Read this Final Environmental Impact Statement here.
Read what State Senator John Marty recently wrote in his comments to the PUC..."
I am writing to urge the rejection of a Certificate of Need for the Enbridge Line 3 Replacement project. This is nothing less than a litmus test about whether we are serious about addressing climate change. Despite Minnesota's good work in promoting renewable energy, if we allow this unneeded tar sands pipeline to go ahead, we will have failed the litmus test. We will have failed our descendants."
You can read Senator Marty's full comments
here
.
Read also
Paul Stolen
(who has been an advisor to FOH) comments on the Line 3 Certificate of Need/Route...
"
Subd. 6 of MEPA says that no permit shall be granted when there is likely to be pollution, impairment, or destruction of water, land, and other natural resources when there is a feasible and prudent alternative. This project has a 50 or more year life, and it is proposed to be located in areas where there is not only potential for a billion or more dollars of clean-up costs, but additional damages to natural resources which cannot be cleaned up."
Click here
for Mr. Stolen's full comments.
Thank you Senator Marty, Paul Stolen and all of you, for your support.
****************************************************************************************************************************************************************************************
Please also contact the commissioners of Minnesota's lead environmental agencies. Ask them to protect our water and defend an independent and competent EIS on Line 3. Ask them to provide strong support for Governor Dayton's veto of any bill that threatens envi
ronmental protections. Please ask them to support the certificate of need as an essential part of any oil pipeline application for PUC approval.
John Linc Stine
Commissioner Minnesota Pollution Control Agency
520 Lafayette Rd, St Paul, MN 55155
(800) 657-3864
Phone: 651-757-2014
Fax: 651-296-6334
John.Stine@state.mn.us

*******************************
Tom Landwehr
Commissioner MN Department of Natural Resources
DNR Central Office
500 Lafayette Road
St. Paul, MN 55155-4040
(651) 296-6157
(888) 646-6367 commissioner.dnr@state.mn.us
Here are some key things you should always and never do in writing to your elected representatives.
Always
Be courteous and respectful without "gushing."
Clearly and simply state the purpose of your letter.
Say who you are. Anonymous letters go nowhere. Even in email, include your correct name, address, phone number and email address. If you don't include at least your name and address, you will not get a response.
State any professional credentials or personal experience you may have, especially those pertaining to the subject of your letter.
Keep your letter short -- one page is best.
Use specific examples or evidence to support your position.
State what it is you want done or recommend a course of action.
Thank the member for taking the time to read your letter.
Never
Use vulgarity, profanity, or threats. The first two are just plain rude and the third one can get you a visit from the Secret Service. Simply stated, don't let your passion get in the way of making your point,
Fail to include your name and address, even in email letters.
Demand a response.


SAMPLE Letter begins here
Dear Honorable
[Elected Official name here
]:
(If letter is going to PCA or DNR use Dear Commissioner [
last name
]:
My name is ________________, and I live in
fill in your town, state
.
Northern Minnesota's precious lake country is at risk. [
You may wish to add your personal connection to this area of the state
]
Please add some additional facts to your letter that support why you feel Enbridge could not have picked a worse route for these proposed pipeline projects. Consider the information you have reviewed here and other sources.
I think this is a critical juncture for all Minnesotans. The Enbridge proposed pipeline route will jeopardize Minnesota's land, lakes, and livelihoods.
Thank you for your service to the citizens of the State of Minnesota.
Respectfully submitted,
your nameaddressphone number
---